I went to see The Art of Bots at Somerset House; I knelt before a giant talking maneki-neko which instructed me to donate money to Tony Blair; I completed an art assignment given to me by the art assignment bot, which was "create a shaded drawing exploring holes"; saw the magic realism bot in action; bought a bag decorated with a leaked official document ("Toteghostly"); listened to a musical performance based on the musical score generated by the Graphic Score Bot; saw 3D printed objects that had been created by a bot mashing up designs it found on Thingiverse.
Shaded drawing exploring holes: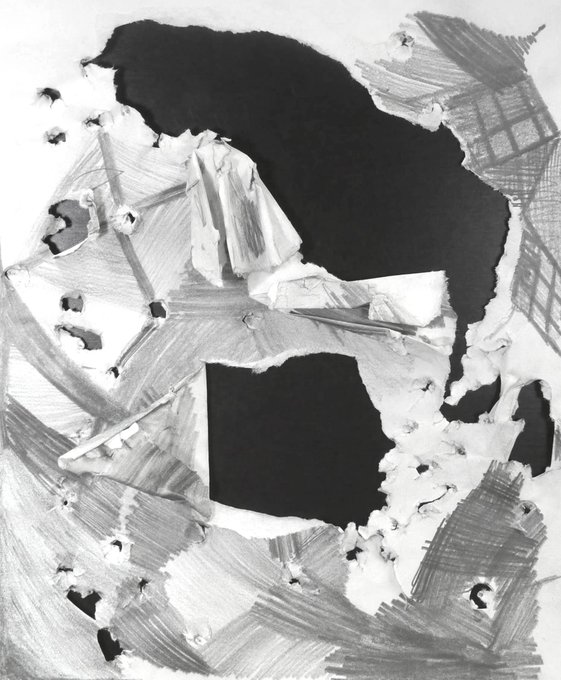 Joe and I then went to see the Thomson & Craighead Booby Trap exhibition; Wondered how the apocalypse smelt after seeing the Apocalypse scent which is made from scents of things described in The Book of Revelation; saw end of the world predictions designed to look a bit like mindful colouring books; listened to self-improvement tapes; saw balloons with the names of military operations on them.
Danced until late at a goth club that plays deathrock and dark punk and electropunk and cold wave; bumped into friends who I hadn't seen for ages; watched girls stumbling out of clubs, taking selfies and shouting "have a nice day" at strangers; ate vegan lemon chicken and sesame prawn toasts and blueberry cheesecake and bright green drinks made with parsley; celebrated
kekhmet
's birthday.
Played games with people and made a pact with myself to be more playful; Played a weird game where you take dick pics and spent time adjusting the filters; Played a game of Snake that you have to walk around and press pedals with your feet to change direction; tried to find amusing sentences in books as part of a game, with
miss_newham
,
kevandotorg
, and
pippaalice
; shone a torch on words that suggested games to play but sometimes mentioned the apocalypse.
I went to talks on games and cities; Listened to
several_bees
talking about games that change your sense of reality, that take you to a different London, and afterwards the London you're in always seems different; Looked up at the cranes that towered over the city and imagined them dancing, after hearing that in Bristol they danced; Heard about some of Blast Theory's games, such as Kidnap, Uncle Roy all around you, and I'd hide you.
I walked across Waterloo Bridge one night, in the pouring rain, underneath a silly umbrella which was hardly protecting me, grinning anyway.
I ran away from zombies in Marble Hill Park.
One Thursday, I saw a rainbow rose as I walked past a florist, and then later, an actual rainbow appeared in the sky! Later that evening, I made rainbow coloured paper flowers because I had a lot of left over tissue paper to use up. I tried adding LEDS to make them glow, but they were a bit too dim for it to work well.
I ate a bánh mì for the first time! At my office, every Friday, teams take it in turns to order lunch for everyone, and one Friday included bánh mì with tofu.
One Saturday afternoon, I went to The London Fortean Society's Subterranean Saturday, and listened to talks on urban legends of the London Underground, secret tunnels of England, and the occult underground.
One Saturday evening, I went to Mario! A Super Musical. This was an amusing musical that involved the Super Mario Brothers and other Nintendo characters.
One Sunday, I visited Crossness, a glorious Victorian pumping station, which I visited with a group of excellent friends and we wandered through the desolate marshes, and went on a bus ride through Plumstead/Thamesmead/etc, and saw brutalist buildings and horses roaming next to tower blocks.
One lunch time I wandered through the park past people with "Kale" sweatshirts, bluebells, daffodils, blossoming trees, pelicans and pigeons, and then browsed zines in the ICA.
One Sunday, we celebrated
kekhmet
's birthday, at a vegetarian pub, the Coach & Horses, and then at the Opium Bar, where I drank the House without a Key.
I went on tube walks from Oxford Circus to Piccadilly Circus, and from Pimlico to Vauxhall; Told friends the nicknames of streets that I was over-familiar with; listened to the waves lapping on the shore; had
drinks in a pub that had a seagull hanging from the ceiling, that looks like it is smoking, and the name of the pub was different on the inside to the outside.
One Thursday, I went to the Amiga Power Reunion, which was amazing! Former staff members talked about what it was like to work there, and then afterwards, in the bar, I met some of the mighty beings who were my teenage self's heroes and got their autographs on some old copies of Amiga Power! It was also excellent to meet other lovely people who were fans and we reminisced a lot.
I had dinner with
nou
and friends at the Maotai Kitchen and ate delicious food, including bitter melon omelette and lotus root, and I drank a can of herbal tea (like Wong Lo Kat), which had ingredients in it such as heal-all and microcos.
I had drinks at the Bricklayers Arms, for the monthly Pub Standards.
Visited the Pembury Tavern as
psych0naut
was visiting the UK.
I saw the musical, Kinky Boots, with Monika.
Walked through Ashenbank Wood in Kent, saw bluebells, peered through gates into some Second World War bunkers, and walked over a Bronze age bowl barrow from around 1500 - 2400 BC.
Walked through more woods full of bluebells! Oh, they were incredible.
I was brave and went to the dentist and the hygienist, and it sounded like there were robots inside my head, or maybe I was listening to radio static, from inside my mouth.
I visited my mum, and saw my brother and sister-in-law, and we looked at old photos.
I ate pancakes and poffertjes with
mcfie
at My Old Dutch, and it was good to catch up with him.
I went to Rochester for the Sweeps Festival and saw morris dancers dancing and maypoles being danced around, and some chimney sweeps.
I made my Misfit target of 2000 points every day of the month. (I have the Misfit app on a Pebble watch.)